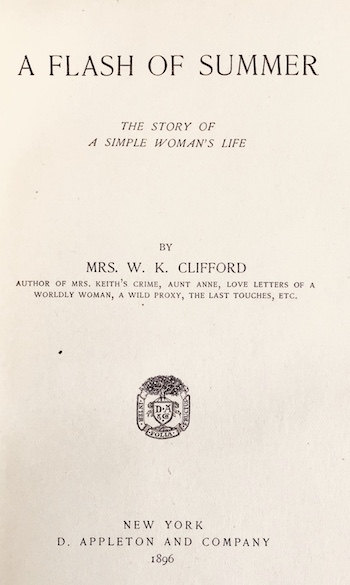 The first American edition of A Flash of Summer.
© Jonathan Taylor.
Few readers today are familiar with the name and works of the Victorian writer Lucy Clifford (1846-1929). Although she fell into obscurity in the twentieth century, her fiction was very popular during her lifetime and she was connected with many of the major literary figures of the late nineteenth and early twentieth centuries, including Thomas Hardy, Rudyard Kipling, George Eliot and Arthur Conan Doyle. She appeared to Virginia Woolf in a dream and was described by the American author, Henry James, as the 'bravest of women and finest of friends'.
Severndroog plays an important role in Clifford's novel, A Flash of Summer (1895), which tells the story of Katherine Kerr, a young and financially insecure woman who is coerced into a loveless marriage and suffers psychological and physical abuse at the hands of her husband, Mr Belcher.
A Flash of Summer is a contribution to the New Woman movement, a term referring to the collective efforts of late nineteenth-century women to liberate themselves from the educational, legal, professional, economic and behavioural constraints forced upon them by patriarchal society. The novel is particularly critical of the male abuses of power that the Victorian expectation that wives ought to be financially dependent upon their husbands enabled. An old housekeeper cynically explains to the young Katherine that: 'Men are always hard on women: they've got the upper hand, and they know it [...] After all, they earn the money, and they've got the right to be master'.
A satirical photograph expressing discomfort about how the New Woman movement might reverse traditional gender roles.
The New Woman – Wash Day, ca. 1901, Library of Congress.
Katherine's emotional relationship with Severndroog changes over the course of the novel. This transformation reflects the psychological impact of the cruelty that she experiences during her marriage to Mr Belcher. In the opening chapters, the castle, which stands a short distance from Katherine's childhood home, is a place of youthful happiness and innocence. An avid reader, she carries her books to 'the steps of Severndroog Tower [...] to sit there in the sunshine, safely hidden from all things'.
Katherine's childhood comes to an abrupt end with the arrival of Mr Belcher. She is afraid of what might happen should he intrude upon her secret refuge and deliberately steers him away from Severndroog when he insists upon joining her for a walk in the woods. However, her worst fears are realised one afternoon when, with twilight 'gathering round the bare trees and the shadows huddled under them, Mr. Belcher appeared at Severndroog'. Cornering Katherine, he pressures her to marry him. She declines, but her uncle, upon whom she is financially dependent, soon forces her to accept Belcher's proposal and she enters into what proves to be an abusive marriage.
'Katherine thought of the trees at Severndroog, and the scrubs, the gorse and blackberry bushes ... They had all gone out of her life forever'
- Clifford, A Flash of Summer
Towards the end of the novel, Clifford uses Severndroog as the site for what appears to be an early representation of Post Traumatic Stress Disorder. While married to Mr Belcher, Katherine nostalgically clings to the image of the castle as a symbol of her lost freedom: she 'thought of the trees at Severndroog, and the scrubs, the gorse and blackberry bushes [...] They had all gone out of her life for ever.' However, when she finally succeeds in freeing herself from her husband, Katherine makes a pilgrimage to the castle, only to realise that she is 'afraid to walk round by Severndroog Tower, for it was there that Mr. Belcher had found her on the evening that he had told her they were to marry'. Ultimately, she is unable to separate the site from the trauma that she has experienced.
Clifford also used other local heritage sites to expose the injustices suffered by women in a society dominated by men. With reference to Eltham Palace, another favourite haunt of Katherine's, Clifford writes that:
At Eltham there was an old palace that had a moat [...] She [...] remembered Henry VIII. and Anne Boleyn dancing in the great hall that was now a ruin: she often wondered why the other dancers had not knelt to the king and entreated him not to cut off Anne's head.
Pondering Eltham Palace's historical association with the Tudors, Clifford's heroine empathises with Henry VIII's unfortunate second wife, identifying with her as a fellow victim of a tyrannical husband.
The great hall of Eltham Palace in the ruined state described by Clifford.
J. M. W. Turner, Interior of St. John's Palace, Eltham, ca. 1793, Yale Center for British Art, Paul Mellon Collection.