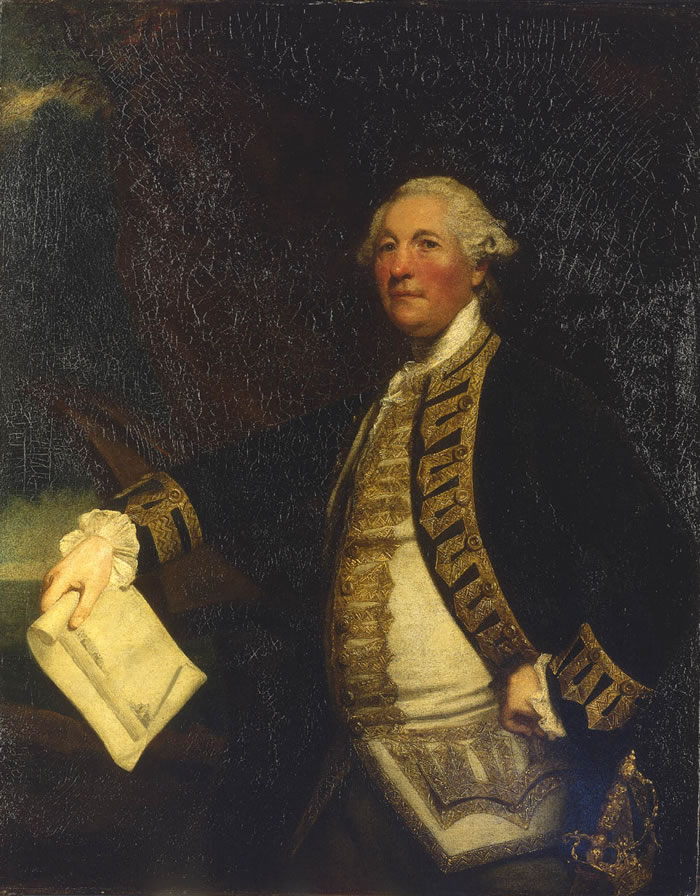 The original of this portrait of Sir William James, by Sir Joshua Reynolds, is in the National Maritime Museum, London. The drawing held by William James is symbolic. It is probably of Suvarnadurg. William is wearing the uniform of the Bombay Marine. The ceremonial sword was presented to William after the battle, by the East India Company.
Few details of William's early life are known. He may have been the son of a miller or farm worker. He joined the East India Company in 1747, serving as the mate on the Company's merchant vessels. Four years later he was promoted to captain in the Bombay Marine, the Company's naval force. His new ship was the Guardian, which he supervised being built in Deptford, and which he sailed to Mumbai (Bombay).
James' role was to patrol the west coast of India and to protect East India Company ships from attack. He was promoted to commodore, moving his flag to the Protector. It was in this ship that, in 1755, he captured the fortress of Suvarnadurg (Severndroog) and, in the following year, took part in the capture of the fortress of Geriah.
After eight years in India, James became extremely wealthy. He returned to England, bought a large estate in Eltham and a fashionable town house in Soho. He was a director of the East India Company from 1768, Elder Brother of Trinity House, Fellow of the Royal Society, and an MP from 1774 till his death at his daughter's wedding festivities in 1783.